A hot working environment has an impact on productivity. During the summer heat in Sydney, when the temperature can get up to 49°, air conditioners can break down in offices, shops, warehouses, and other commercial facilities. A quick, temporary cooling solution may be necessary to keep workers healthy and productive. This portable air conditioner hire selection guide will help you make the right choice.
What are the Benefits of Portable Air Conditioners?
Permanent air conditioners break down for many reasons, including poor maintenance, dirty filters, and excessive usage. Portable air conditioners are easy and quick substitutes. Some benefits of using them for your workplace include:
Practical and efficient alternatives to keep your commercial space cool when the permanent system is ineffective.
Maintains indoor air quality and keeps people productive, whether you run an office, retail shop, warehouse or even for your home.
Easy to get delivered and installed on the same day – providing the quick, temporary solution you urgently need.
Ideal for spot cooling, especially if you don't need to cool down an entire area.
Additional cooling when permanent units cannot keep up with the demands of a workplace or retail store.
What Cooling Solutions are Available?
Some portable air conditioners have higher load capacities and cover larger areas, while others may be ideal for smaller spaces. It's prudent to have an understanding of different commercial air conditioner hire options, so you can make a practical choice.
4.5kW Commercial Air Conditioners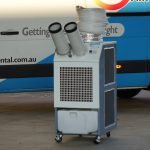 In my experience, the 4.5kW commercial air conditioner is perhaps the most popular temporary cooling solution in Sydney and across Australia, thanks to its versatility for different spaces like offices, retail shops, factories and even industrial environments. The 4.5kW commercial model is also the most powerful air conditioner that can operate off a standard 10amp power outlet. This means that they can work in almost any room or building without requiring special 15 amp power outlets. They can be placed anywhere, allowing for inconspicuous and quiet operation.
As a standard, a 4.5kW unit will provide cooling for up to 30-sqm. This is a good benchmark to help you establish how many air conditioners you need and how much it will cost for your business.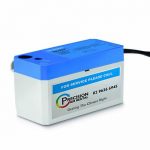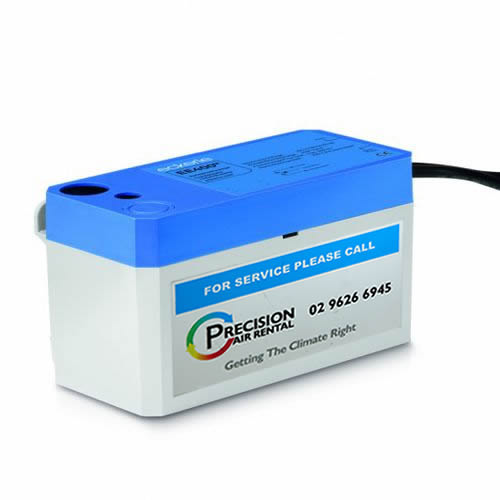 A latent condensate pump is a great addition to a portable air conditioner because it can be connected to your building wastewater or sink, automatically draining the water that collects in the air conditioner tank.
5.7kW Air Conditioners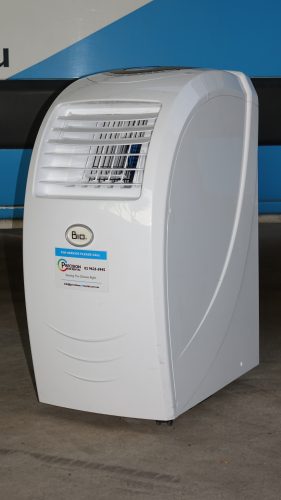 Despite the kW rating, domestic 5.7kW air conditioners are actually less powerful than the 4.5kW commercial units. They are a great choice for smaller offices, private rooms, workstations and homes. Offering different temperature settings through a variable louvre swing and quiet operation, you can control the indoor climate easily.
36″ Evaporative Coolers
Temporary air conditioning is not the only solution when you need to cool down your business. Many of our clients find that other types of cooling are also efficient and suited to their requirements.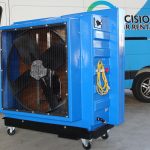 The 36″ evaporative cooler hire is the perfect choice for worksites and factories where the conditions are extremely hot and dry. They can effectively cool down a space of up to 270 sqm. It's important to consider that evaporative coolers need access to constant water supply and are more effective in drier climates.
650mm Industrial Fan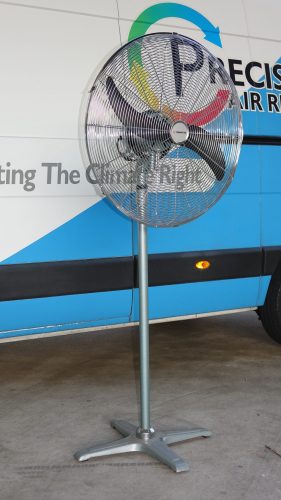 The 650mm industrial fan is a great option for commercial and retail facilities like factories, warehouses and gyms, providing good circulation and cooler temperatures. You get three different fan speed settings and 90-degree oscillation to cover larger areas.
These cooling solutions may be hired individually or in combination with others to provide an optimum environment for your office or facility.
Are Portable Air Conditioners Noisy?
In the past, portable air conditioners had the dreadful reputation of being too noisy. Thankfully, technology has made it possible for modern units to run quietly. For instance, our portable units fall between 48 decibels and 60 decibels noise levels, which are relatively low. Considering that the typical noise level for normal conversation is 60 decibels, portable air conditioners do not introduce any excessive noise, allowing your business to continue operating as usual.
Learning from many past projects, it's clear that installation and placement can also impact noise. That's why I encourage you to work with an experienced professional who knows what to do and ensures the least possible noise through accurate placement and installation.
Portable Air Conditioner Hire Selection Guide For Commercial Buildings
Let's take a look at how portable air conditioners can work for your business, depending on your building/area or situation:
Offices
Temporary air conditioners for offices can easily be installed in any office setting – large or small. The number of air conditioners you need will depend on the size and style of your office. Standard large, open-plan offices may require fewer air conditioners than a space with enclosed rooms and airflow-blocking walls. In addition, you will likely need one portable unit per enclosed private office or conference room. If some areas receive intense sunlight, you may need to increase cooling there. The 4.5kW air conditioners are best suited for offices, but the 5.7kW units may also be used in private offices or smaller rooms.
Server Rooms
Some areas within an office may need additional cooling. For example, server rooms have heat-generating equipment that must stay cool. Cool air can be directed towards specific spots in the server room where necessary. This ensures the life and reliability of your IT systems remain uncompromised, and prevents issues like system crashes, reboots and poor performance. For a standard server room, the 4.5kW air conditioner is the ideal option.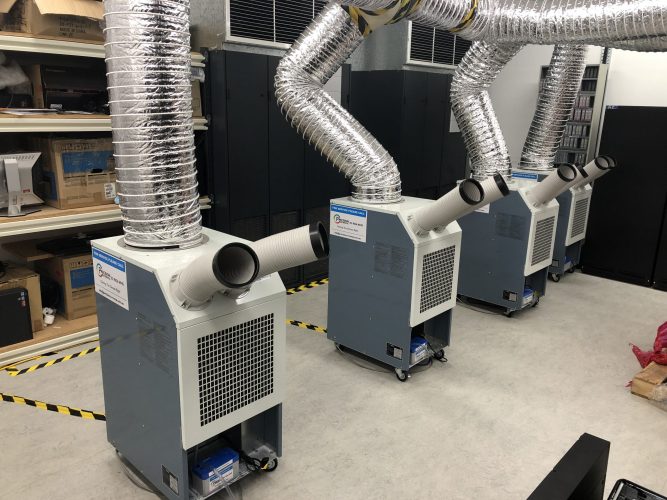 Shops
Portable air conditioning for your shop will depend on an array of factors including the number of visitors, staff numbers, products sold, and more. Knowing the size and configuration of the space (open plan, partitions etc) will impact the number of air conditioners you need for your shop. For a standard shop size of 30 square metres, you'll likely need one 4.5kW portable unit.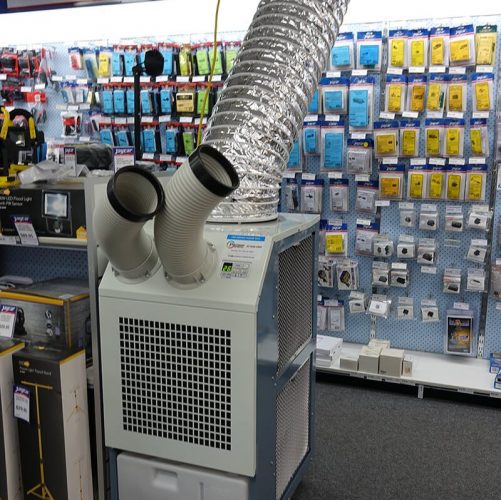 Warehouses
It's always ideal to ensure a cool environment to keep your staff safe and to protect your products from the damage caused by heat and moisture in your warehouse facility. A portable air conditioner can spot cool specific areas or provide general cooling in your warehouse. It can also dehumidify the air. For general cooling, the 4.5kW models are most suitable, but industrial fans can also help with good air circulation.
Factories
Industrial air conditioner hire can be used in many work situations. For example, it can cool a specific zone, spot cool industrial machines or keep your workers cool and comfortable as they perform labour-intensive tasks. It can also preserve good air quality inside the factory. The 4.5kW model is the most sought after option for factories, but you can combine it with an evaporative cooler or industrial fan where needed.
In summary
Portable air conditioners are great alternatives to protect your equipment and workforce in case something goes awry with your air conditioning, which makes hiring them a sensible business decision that aligns with workplace temperature guidelines in NSW. However, there is no one-stop solution since every workplace differs in need and capacity. Choosing the best unit will depend on your purpose and space. In some instances, a combination of solutions may be needed.
This portable air conditioner hire selection guide is a great start. But to get the best advice for your particular purpose, contact us at Precision Air Rental. As a portable air conditioner specialist in Sydney, we can help you identify the right cooling solutions, along with providing delivery and installation on the same day to minimise any heat-resulting risks at your workplace.
Get your free quote today!