Sydney's Trusted Industrial Air Conditioner Hire
Cool down your industrial facility with high-performance air conditioners from trusted specialists.
Industrial Cooling Hire For Your Business
If you need short-term or long-term air conditioning for your industrial site, Precision Air Rental can cater to any situation – nothing is a problem for us. From large industrial fans through to portable air conditioners to evaporative coolers, we have the capabilities to manage your cooling project efficiently and cost-effectively.
Temporary air conditioning for industrial buildings of all sizes
Manufacturing sites
Repair facilities
Construction sites
Workshops
Warehouses and storage facilities
Distribution centres
Precision Air Rental delivers the most effective air conditioning solutions with optimum temperature and humidity control for your site. We scope out your specific requirements and have a range of products for different size capacities, allowing us to provide the most tailored cooling solutions whether you need to cool a small room or the whole building.
How to Choose the Right Industrial Air Conditioner to Hire
If you're looking to cool a small room or a specific zone in your facility, a portable 4.5kw air conditioner will perfectly suit your needs.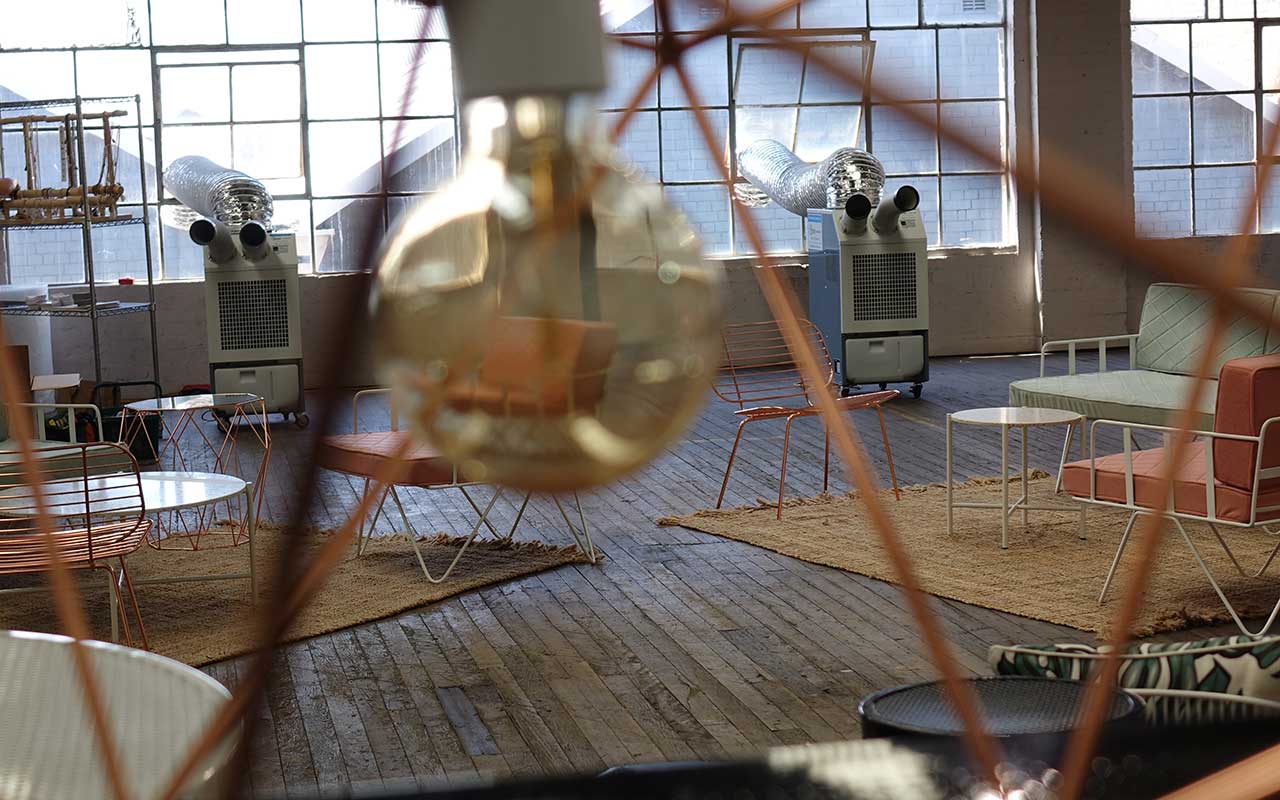 A standard 4.5kw portable air conditioner can cool a space up to 30-sqm. Use this to determine your building height, width and length so you can roughly calculate how many air conditioners you need. Call us now and we will provide you with a more accurate quote.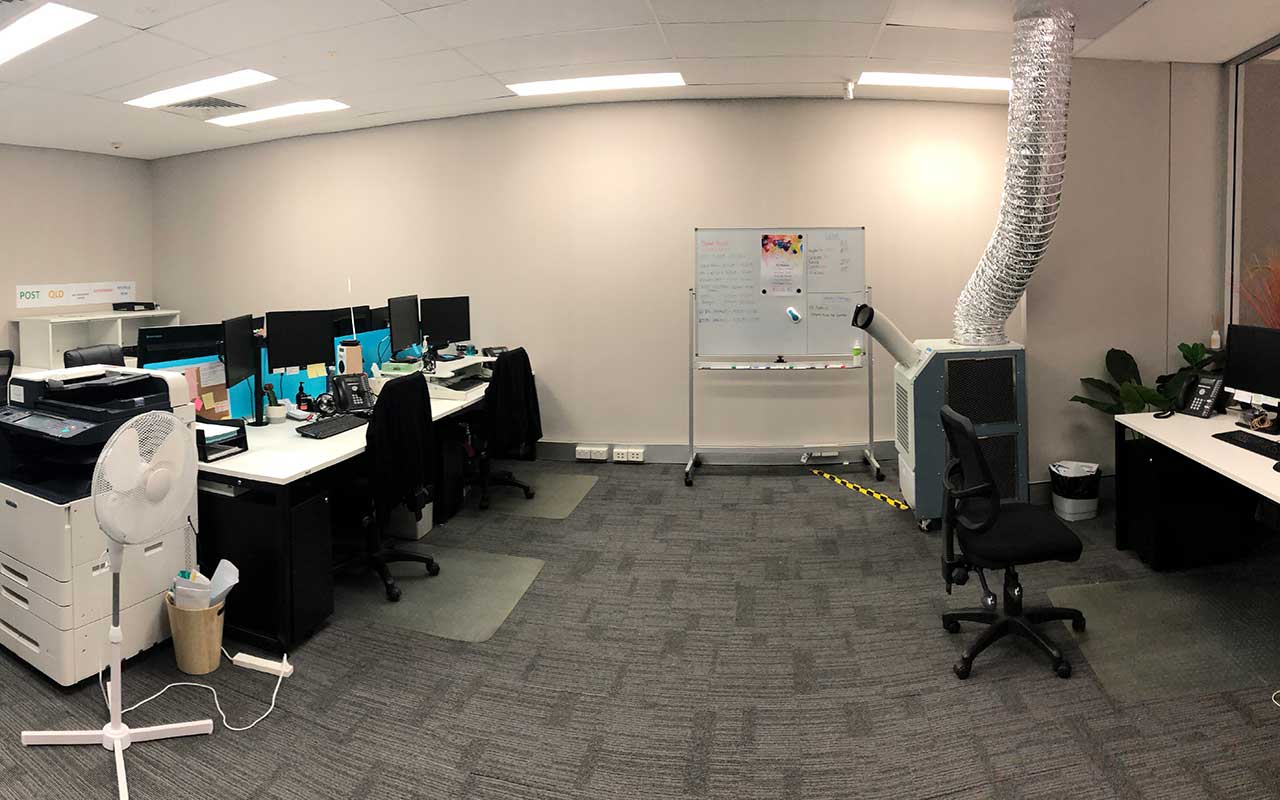 If you have a large building with multiple spaces, you may need to spot cool each area with a portable air conditioner. Alternatively, you may need a large containerised air conditioner. Give us a call and we can help you find the right solution for your needs.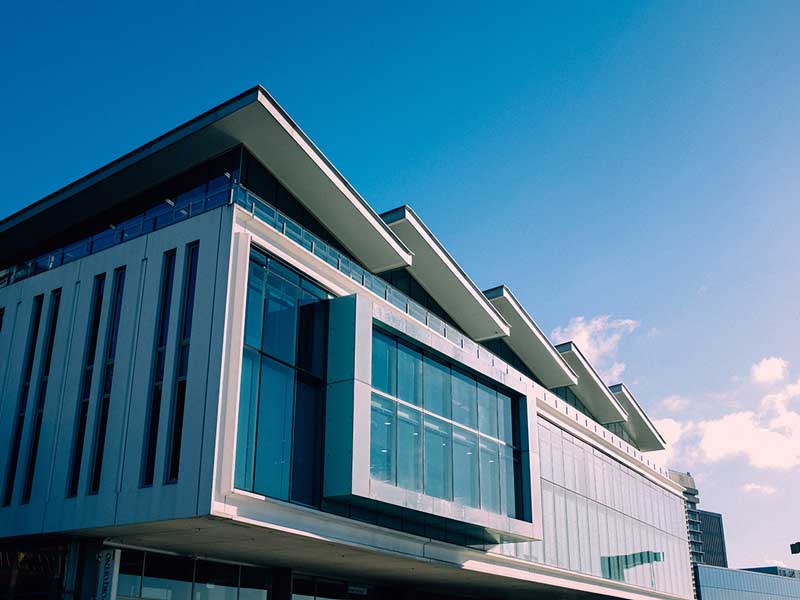 Spot cooling vs building cooling for industrial facilities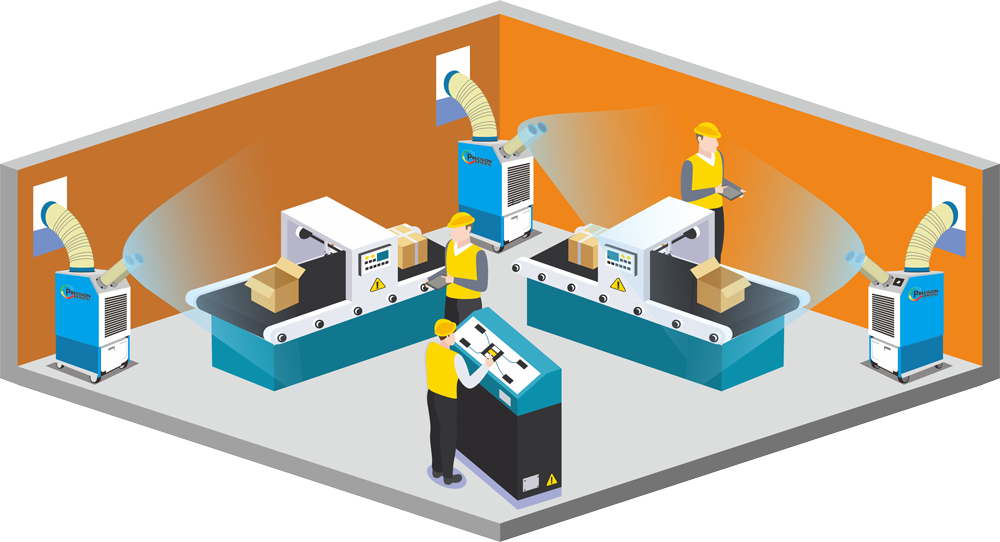 Spot coolers are ideal for cooling a small area where someone is working and in front of a machine or workbench. This keeps your staff cool and protects your equipment. It's easy to keep your costs down because you don't have to cool down the entire building and can focus on specific areas.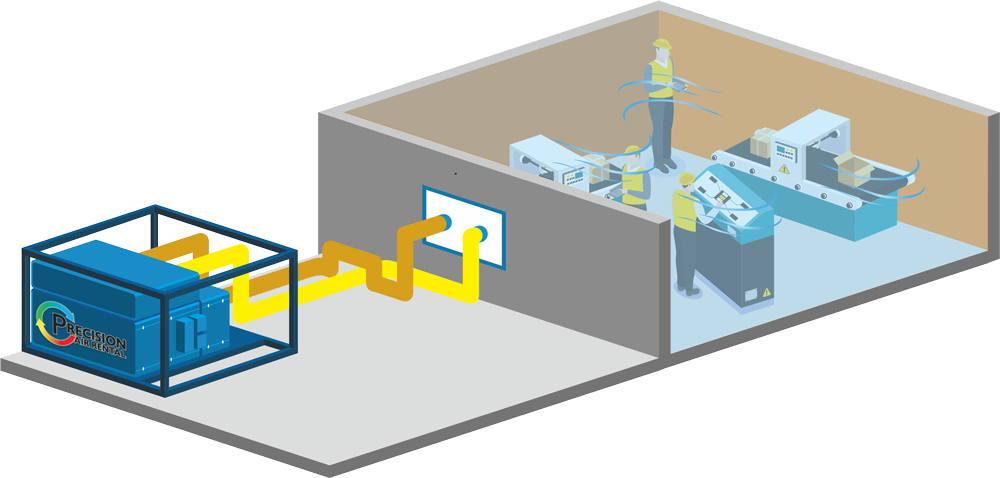 For cooling an entire building or a big space, you may need larger, more powerful machines for cooling. These machines are generally fixed in a specific location and are more expensive than spot coolers but are designed to produce the most optimal working conditions – keeping your products safe and workforce healthy.
Is air conditioning suitable for your business
While evaporative coolers work perfectly in some conditions, they may not be ideal for all industries because of excess moisture produced. If you need a drier environment to maintain the quality of your products, air conditioners may be the right choice. The specialists at Precision Air Rental will consider all your needs before delivering the most practical solutions for your situation.
Air conditioners
Evaporative coolers

Power supply – requires standard power points
Drain point for condensation tank
Window or ceiling cavity for hot air venting

Power supply – requires standard power points
Constant water source
Open windows to circulate fresh air and cool down the space
Industrial air conditioner hire from Sydney's Expert air conditioning Rental Company
Precision Air Rental has a range of air conditioners, industrial fans and evaporative coolers available on hire for different cooling needs.
From scoping out your requirements to creating tailored solutions to delivery and installation, we handle everything so you can focus on your core business without any distractions.
Our biggest point of different is our commitment to providing the best quality products with excellent service. Whether you need same-day delivery and installation or want something fixed, we are always available to help. This unbeatable combination has made us the go-to choice for many industrial sites in Sydney.
Our air conditioners are the latest, most energy efficient models available on the market. They deliver superior performance and create the most optimal environment to boost productivity, protect your equipment and maintain a healthy workforce.
Investing in the right air conditioning solutions for your site today pays dividends in the long term, which is why you'll want to choose an experienced professional like Precision Air Rental to help you with your specific needs. Since we don't follow a one size fits all approach, you can rest assured our solutions will be unique to your requirements