Newest, most reliable air conditioners in Sydney
100% up-time track-record and Guaranteed replacement
Is a Portable Air Conditioner Right for my building/business?
Portable air conditioning is a great choice if:
Your office air conditioning breaks down and you need to stay cool while waiting for repairs
You need to spot cool an area or a workstation in a very large hot building room or area.
You work from home and need to cool down your home office
Your hot/humid shop needs cooling during summer
You need to keep critical business equipment cool and safe in summer
How does an air conditioner work?
An air conditioner cools down a room by removing heat from inside and transferring it outside using a chemical refrigerant. The fan, found in the outdoor unit, blows air over the hot coil and transfers heat from this refrigerant to outdoor air. This process continues until only cool air is blown inside the room.
Air conditioners are the best choice for filtering and circulating air, plus they can remove dust and reduce humidity – resulting in better air quality and a more comfortable environment for your home, building or office.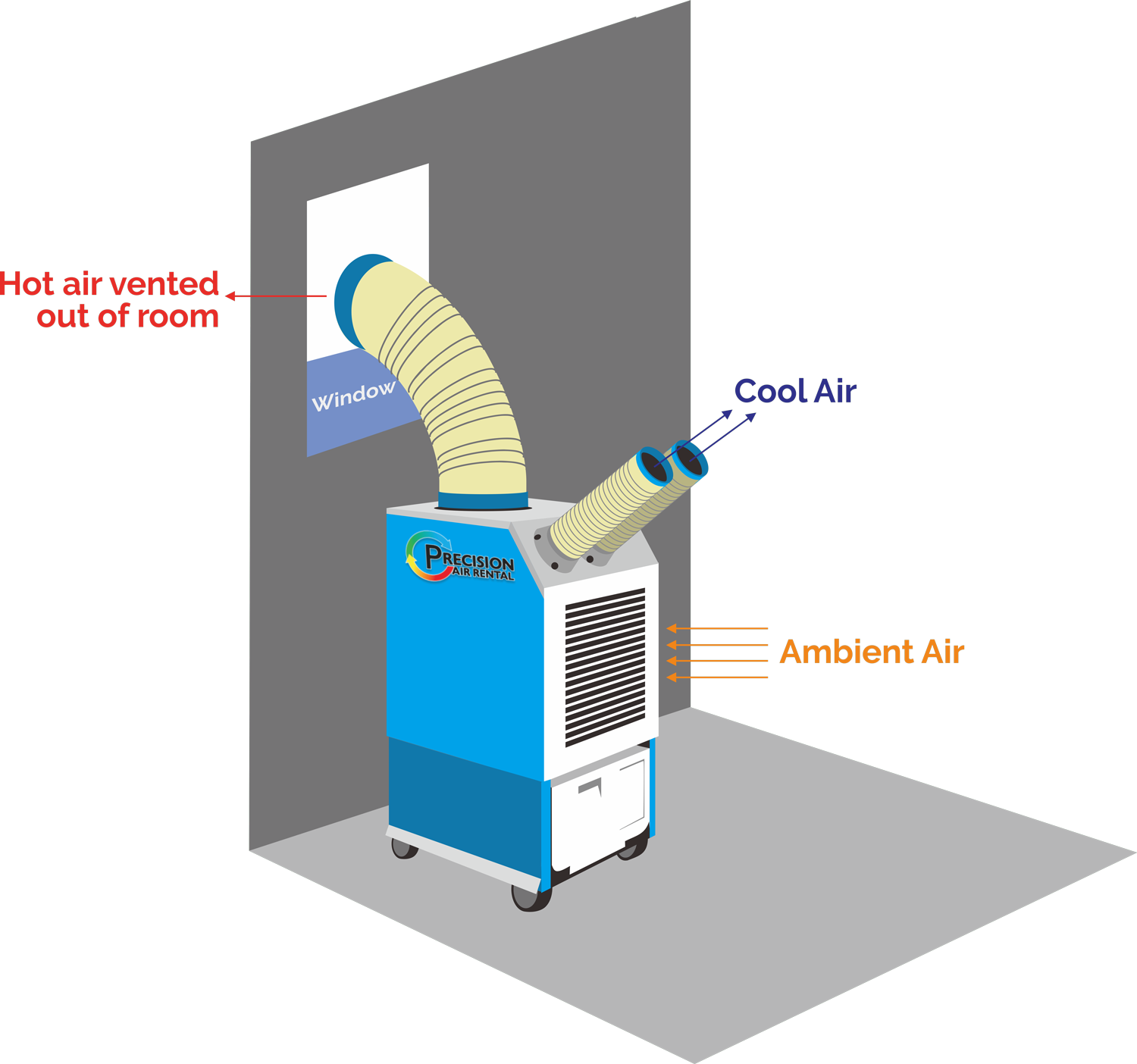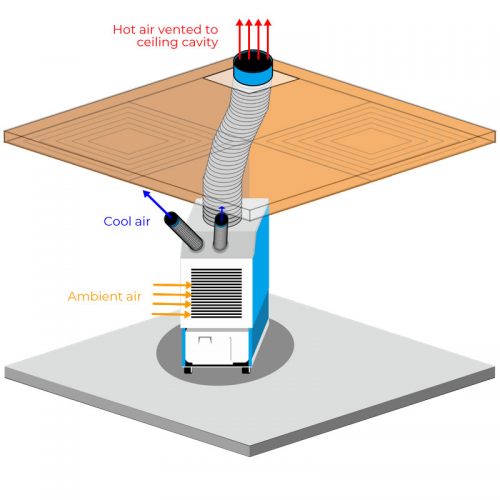 Our air conditioners blow cool air out of the adjustable nozzles at the top and vent hot air out of the venting pipe. Hot air can be vented to either an external window or the ceiling vent. Like most other portable air conditioners, ours include a condensate tank which fills with water as the air conditioner runs. This needs to be emptied periodically and has a shut-off switch to prevent leaks or electrical failure.
For a maintenance-free hire, where you don't have to worry about emptying the condenser tank, consider hiring a latent-condensate pump. This device pumps water out of the unit into the building's existing wastewater system so that you can leave the air conditioners running for extended periods of time with no upkeep.
What is air conditioning best for?
Air conditioning is a great way to stay comfortable on hot summer days whether you're home or at your workplace. It is suited to residential homes or buildings and commercial spaces like offices, workshops and retail outlets where keeping cool, maintaining good air quality and setting optimal temperatures are important for overall health and productivity.
Air Conditioner Rental Services
Hire your Air Conditioner from Sydney's Expert Cooling Rental Company
Precision Air Rental delivers the most state-of-the-art and reliable portable air conditioners to offices and residences throughout Sydney and surrounding areas. Not only do we stock the latest models in the market, but we also ensure they are regularly maintained, one of the many reasons why we have an impressive 100% up-time record.
Our goal is not just to deliver a product. We take the time to fully understand your cooling needs, so we can tailor our services to help you in the best way possible. You can phone us day or night, 24/7, if you have an issue, which is why so many homes and businesses choose us for their cooling needs.
The Precision Air Rental team are experts in delivering top quality air conditioning solutions to the Sydney market no matter how big or small the job is. We remain committed to making sure you are completely satisfied and will take the time to address and solve any concerns without keeping you waiting.
Our portable air conditioners are available in different sizes and load capacities for small or large spaces, so you can rest assured we have something that meets your budget and expectations.