Sydney Evaporative Cooler Hire
FAST Same day delivery and installation
Newest, most reliable evaporative coolers in Sydney
100% up-time track-record and Guaranteed replacement
Is an Evaporative Cooler Right for my business?
An evaporative cooler is the ideal choice for your business if
The climate inside your facility is too dry and you need humidity to provide greater comfort
Your business is not affected by extra moisture in the air
You're looking for an environmentally friendly cooling solution
You need to keep your business costs low
You need to keep circulating fresh, cool air in your facility
How does an evaporative cooler work?
An evaporative cooler pulls warm air from outside into the unit. The air then passes over wet cooling pads, which causes the water to evaporate into the air and cool it down. This cooler air is then directed into the room and pushes warmer air out – giving you a steady supply of cool, fresh air.
Evaporative coolers are designed to consume less energy, which translates into lower electricity costs. And because the evaporation process adds humidity to dry air, it can even reduce issues like sore throats and itchy eyes that are common in extremely dry weather conditions.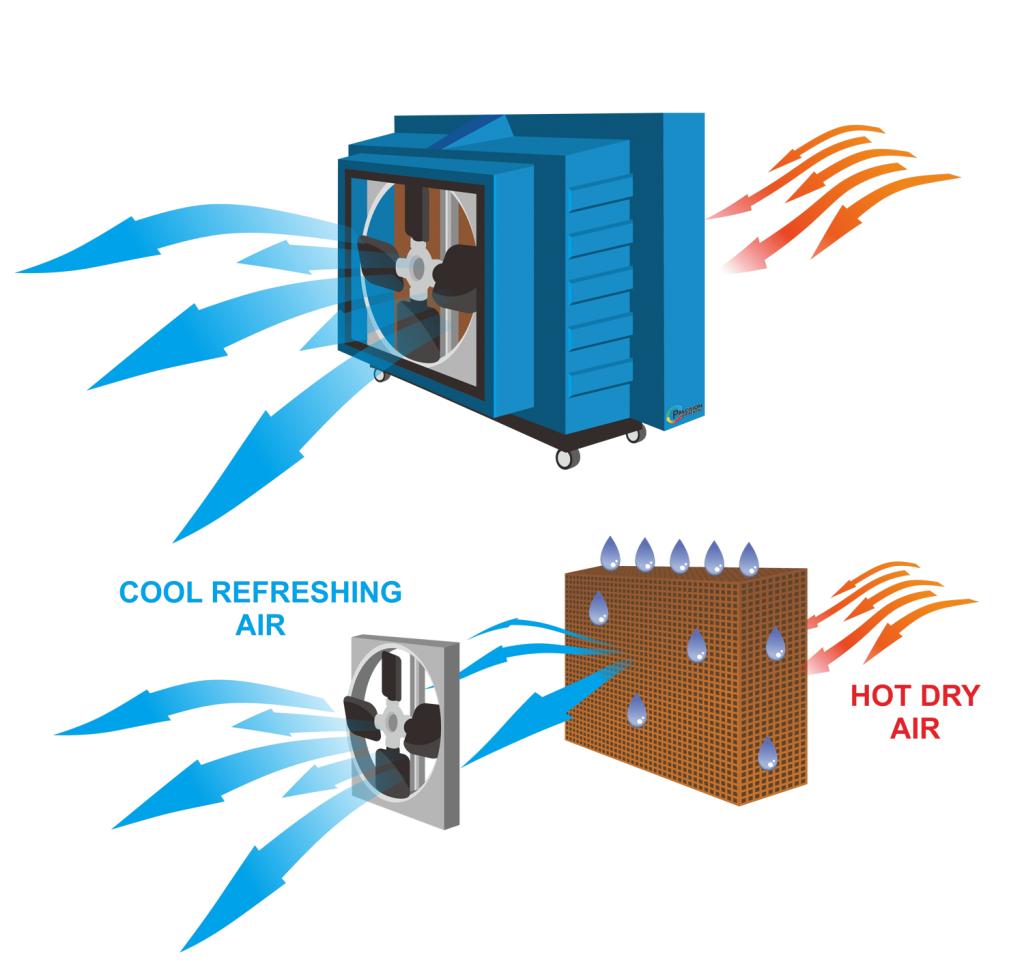 What is an evaporative cooler best for?
Evaporative coolers are cost-effective solutions and most suited to Industrial facilities that need cost efficient portable cooling in the workplace, including factories, ventilated production or distribution facilities, and industrial buildings with large internal areas that may require spot cooling.
Evaporative coolers can also provide effective spot cooling outdoors as well, and are a great choice for outdoor events and businesses.
Evaporative Cooler vs Portable Air conditioner
Evaporative Cooler

Portable Air Conditioner

Most effective in dry climates
Eco-friendly and cost-effective keeping business costs low
Adds moisture if required to a facility
Easy to install and operate

No restriction on climates
Excellent cooling for extremely hot spaces
Offers additional features like dehumidification and air circulation
Easy to install and operate
Extremely versatile for all kinds of spaces that need cooling
To make the right choice for your needs, consult with the Precision Air Rental experts.
Evaporative Cooler Hire Services
Our evaporative coolers are some of the latest and most reliable machines, available in different sizes for small or large areas – reducing heat loads and increasing productivity.
Keep guests and visitors happy and cool using the latest natural cooling technologies, our evaporative coolers keep events cool both indoors and outdoors.
Hire your Evaporative Cooler from Sydney's Expert Cooling Rental Company
At Precision Air Rental, we stock the latest and most reliable evaporative coolers available in Sydney. We meticulously maintain our evaporative coolers at regular intervals, which is why we've never had a machine breakdown. But for any issue, we are available 24/7 to cater to your needs and even offer a 24-hour replacement guarantee should anything go wrong.
So what makes us different? We always strive to go the extra mile in quality and service – making sure we exceed your expectations, every time. We are enthusiastic about offering evaporative coolers that deliver superior performance, optimum comfort and excellent air quality for your workforce – ultimately creating the most ideal working environment for greater efficiency.
Our experienced team will take the time to understand your specific needs before identifying the best evaporative cooling solutions whether you have a small office or a large facility. We have products suitable for different load capacities.
If you're looking to hire an evaporative cooler for your office or manufacturing facility, your decision is made easier with Precision Air Rental. Our 100% up-time record, longstanding local expertise and commitment to great customer service has made us the preferred choice for many commercial and industrial businesses throughout Sydney.