Sydney's Trusted Commercial Air Conditioner Hirer
Keep your staff and customers comfortable with the best quality temporary commercial air conditioners.
Air Conditioner Hire for your Office, Commercial Building or Retail Shop
Whether you have a small or large office, commercial building or retail shop, Precision Air Rental has your temporary air conditioning needs covered. We stock some of the latest, energy efficient models with same-day delivery and installation, 24-hour replacement guarantee and 24/7 callout service to give you complete peace of mind.
Temporary air conditioning hire for all commercial buildings
Restaurants and cafes
Data centres and server rooms
Office buildings
Retail outlets
Medical centres
Hotels
At Precision Air Rental, we have a range of commercial air conditioning products in different size capacities to cater to the needs of your property. From small or large areas to multiple rooms, we consider all your requirements and offer a personalised solution for you. And if you need us, we're just a phone call away – 24/7.
Quiet air conditioning for your office or shop
At Precision Air Rental, our commercial air conditioners are whisper quiet with a maximum noise level of 64dB. This is equivalent to a normal conversation, which means your staff can work comfortably or your customers can visit your store without noticing them – ensuring a cool work environment even during the hottest summer days.
Temporary Air Conditioning Suitable for most buildings
Our temporary air conditioners can be delivered and set up in your office on the same day if your existing air conditioning breaks down. We provide delivery and installation including hot air venting to the ceiling or window, power supply, condensation drainage (if applicable) – helping you get your building cool again in no time.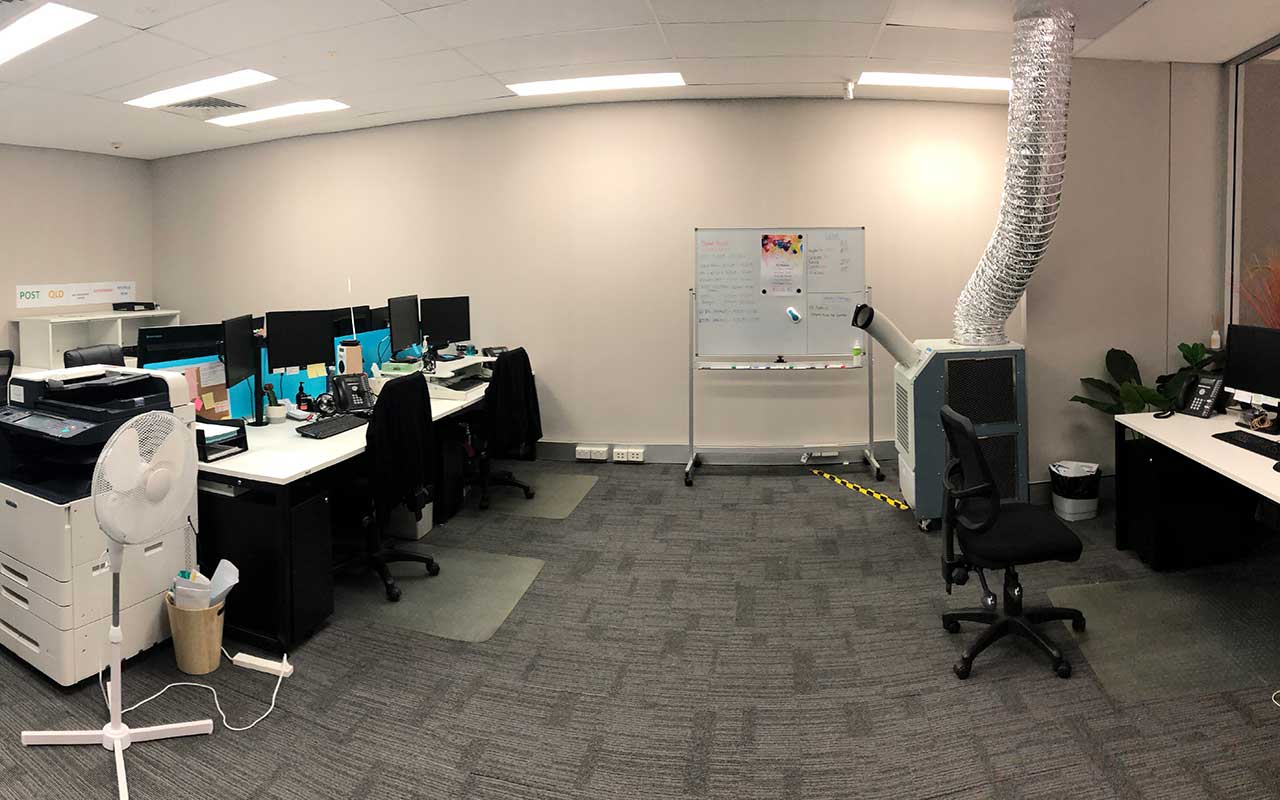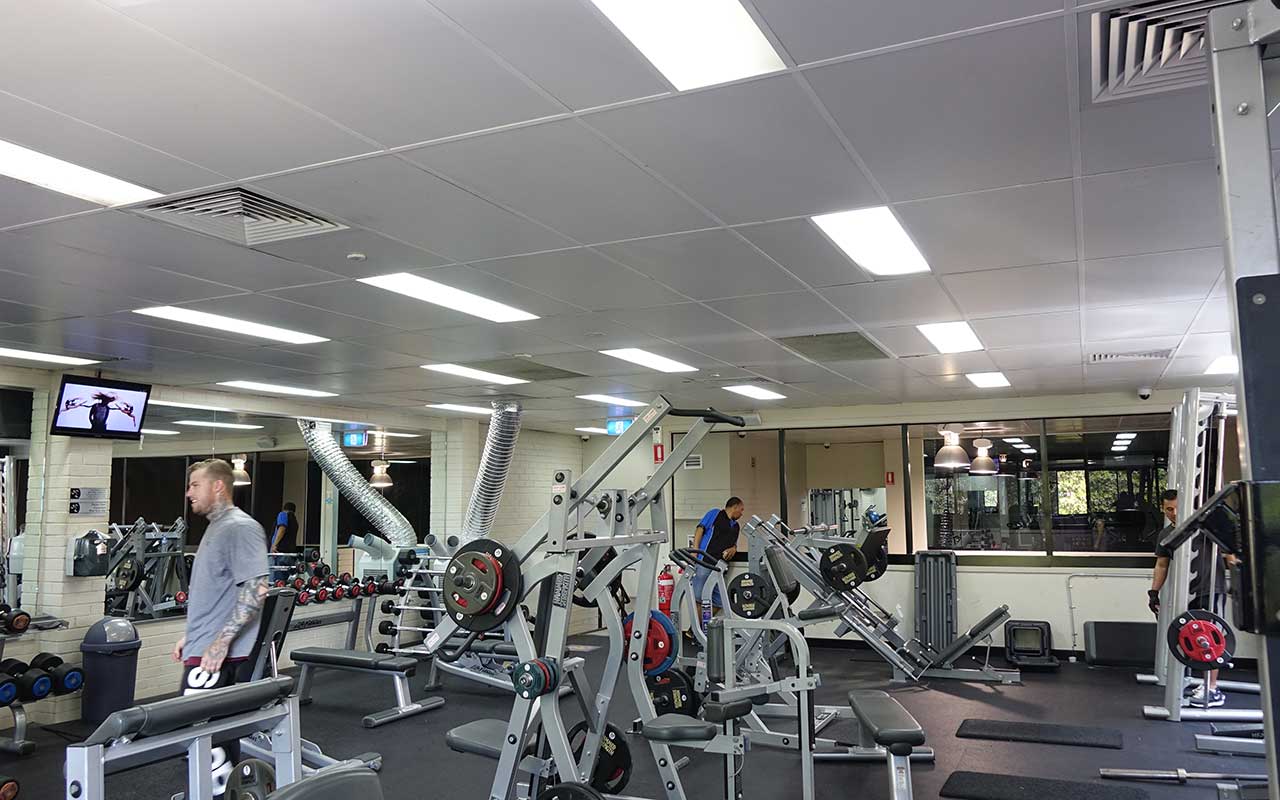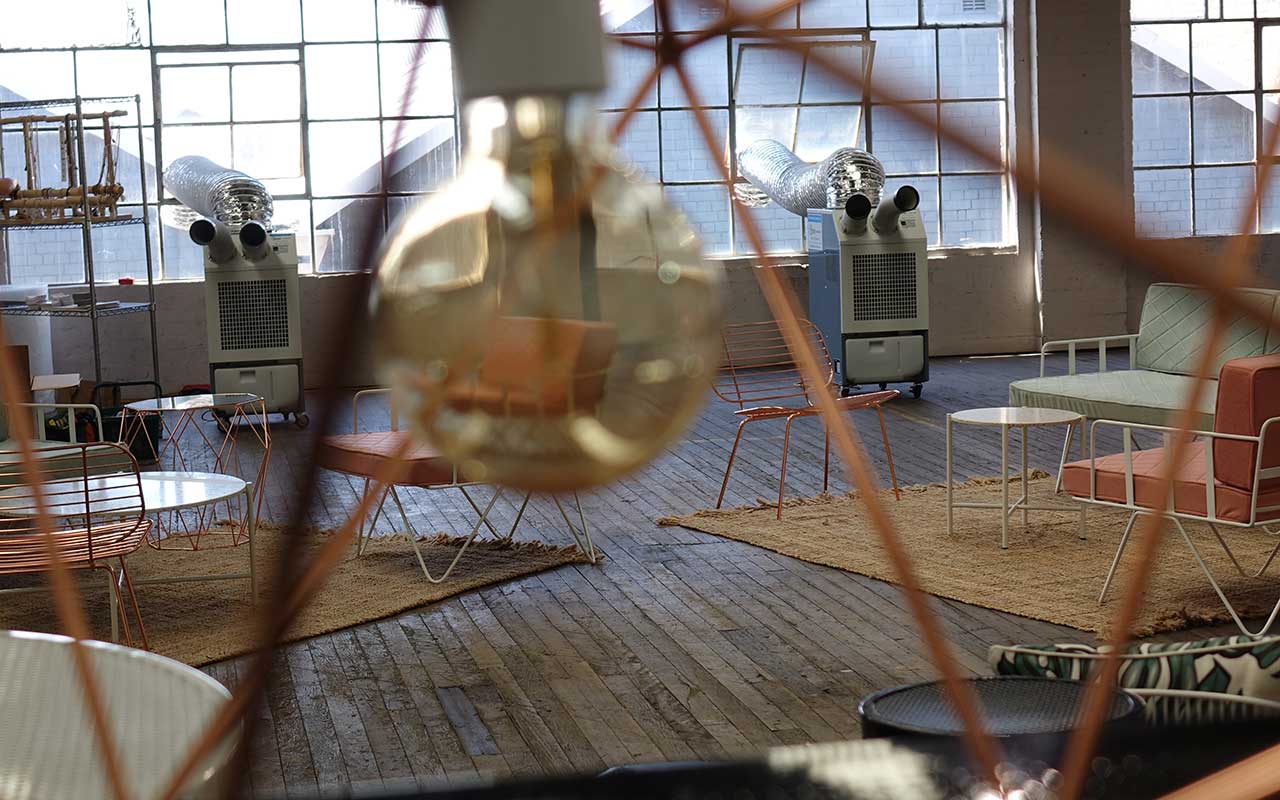 Complete delivery and installation services. Call now for a quote
How many Air Conditioners will you need?
Our 4.5kW portable air conditioners can cool approximately 30m². Multiply your room width by length in meters and divide by 30 to get a rough estimate of how many portable air conditioners you will likely need. For an accurate quote, please call us.
Sydney's Reliable Commercial Air Conditioner Hirer
If your existing cooling system suddenly fails or if you have to hire a temporary air conditioner for a specific area in your office, you need someone you can rely on to avoid unpleasant issues later.
At Precision Air Rental, we stock the latest, most reliable and highly efficient products available today, minimising the chance of a failure. Our 100% reliability record and 24-hour replacement guarantee in the event of a failure means you're assured of great quality and service, from start to finish. We are also available on the phone, 24/7, to give you complete peace of mind knowing we have you covered.
Commercial Air Conditioner Hire from Sydney's leading Rental Company
Precision Air Rental is highly experienced at providing temporary air conditioning solutions to businesses of all sizes throughout Sydney and surrounding areas. We take great pride in our quality, high performance products and commitment to excellent service no matter how big or small your office is, proven by a high percentage of return and referral business customers over the years.
Our 100% up-time track record, 24-hour replacement guarantee, 24/7 availability and same-day delivery and installation service has made us the preferred air conditioner hire choice, giving our customers complete peace of mind knowing we are just a phone call away if needed.
Stocking the latest models, our air conditioners deliver high performance and energy efficiency in a whisper-quiet environment – ensuring your workforce and customers remain cool and comfortable without any disturbances. We maintain them regularly to eliminate the risk of issues once they are installed on your property.
Our goal is to understand your specific needs so we can offer a personalised solution that is unique to you. This allows us to both meet and exceed your expectations, every time. And in turn, we hope you will spread the word or rely on us once again for your next project.