Precision Air Rental offers temporary air conditioning products that cater to residential, commercial and industrial properties, and events. Committed to high standards of quality and service, our products are fitted with the latest technologies that offer exceptional performance, 100% up-time and energy efficiency with minimal disruption to your home or business.
Whether you've planned air conditioning hire in advance or require emergency same-day service, we have a solution for you. We make sure our installations meet all safety and technical requirements for the safest job on your premises. Available 24/7, we are only a phone call away to assist you.
Experienced Air Conditioning hire professionals here to serve you
Precision Air Rental has a team of experienced professionals who have you covered for your temporary air conditioning needs. Built to deliver high performance and comfortable temperatures, our quality products are complemented by our unsurpassed customer service. We know that every client has a unique need, which is why we take the time to understand the problem before offering a tailored solution to give you complete peace of mind.
Our experience means we can fit your home, office or facility with the right cooling product quickly and cost-effectively – requiring zero effort from you. We place strong emphasis on not just meeting but surpassing our customers' expectations – proven by a high degree of returning clients and referral business. No requirement is too big or small so if you need to hire air conditioning for your home or office, sit back and relax with Precision Air Rental.
Portable Air Conditioning Specialist
Hi, I'm Craig Boyle, the owner of Precision Air Rental. I've had close to 10 years in the air conditioner rental industry and have enjoyed it tremendously over the years because of its hands-on work both indoors and out. I've also had the chance to work with some of the best people in the industry.
My goal is to bring comfort to our customers as fast as possible, providing air conditioners, evaporative coolers and fans that cool down your home or business so that you can get on with your day.
I'm proud to say that our air conditioners are inconspicuous and quiet – minimising disturbance and maximising efficiency.
I grew up in Bathurst before moving to Sydney to pursue new business opportunities and haven't looked back since. One of the biggest reasons for starting Precision Air Rental was my desire to help people solve their problems and make sure every need is met with appropriate solutions. When I'm not busy at work, I'm a motorbike fanatic so you'll find me taking long rides on my Triumph Tiger Sport 1050.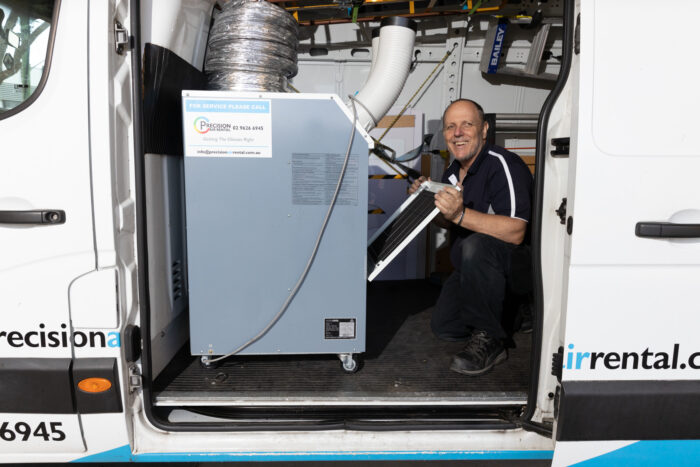 Portable air conditioners for all situations
Precision Air Rental stocks portable air conditioners for a variety of residential, office, industrial and event settings. Our strong local knowledge and 100% up-time record has enabled us to offer the most suitable products whether you're in a busy Sydney office or a more remote factory location.
We have the experience to offer tailored solutions whether you need a small or large sized unit. Our portable air conditioners are high in performance and efficiency to keep your home or business running smoothly. And if you ever need us, we are available round the clock to help fix any issues.