Client
Our client is a global eye-care device and equipment supplier that has been in business for over 70 years. With a presence in over 70 countries and serving patients in over 140 countries around the world, the company has a large warehouse in Macquarie Park, NSW – catering to Australia and surrounding regions.  
Problem
The client planned to host a corporate event at its Macquarie Park warehouse in February. The company's global CEO was expected to attend and address its Sydney-based employees. The challenge here was that the space did not have any air conditioning, which meant temperatures would get extremely high during the day. This was less than ideal since the event also included networking, speeches, a food and beverage service with a bar, ice creams and catering for over 200 people.
The main focus was to find a way to spot cool the area to a temperature that would allow everyone to enjoy the event comfortably, instead of in a hot and sweaty space. The cooling solution needed to be inconspicuous and relatively quiet, to eliminate any distractions during the speeches and networking sessions. It also needed to be an easy setup since it was a temporary requirement for just one day.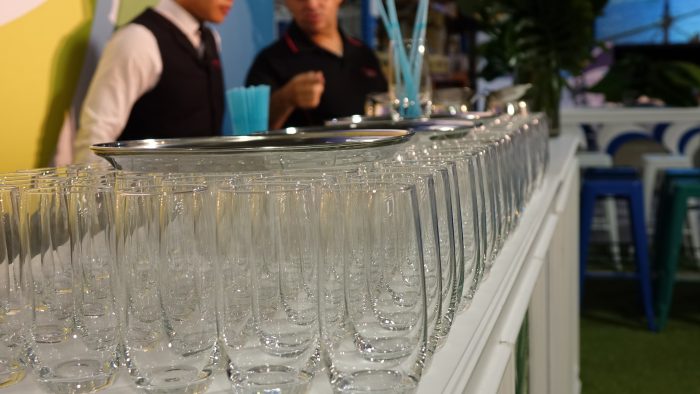 Moreover, it was important to have a reliable cooling solution that guaranteed an uninterrupted run during this high-profile event – making sure everyone stayed cool and comfortable with minimal intervention from any of the employees or managers.
Solution
After carefully inspecting the warehouse and size of the event area, the Precision Air Rental team recommended installing eight units of the 4.5kW commercial air conditioners. This calculation was based on the event area within the warehouse and the number of people expected to attend.
These commercial air conditioners were the best choice because each unit can cool a large area of up to 30-sqm and can be powered off a standard power outlet without any special installations needed.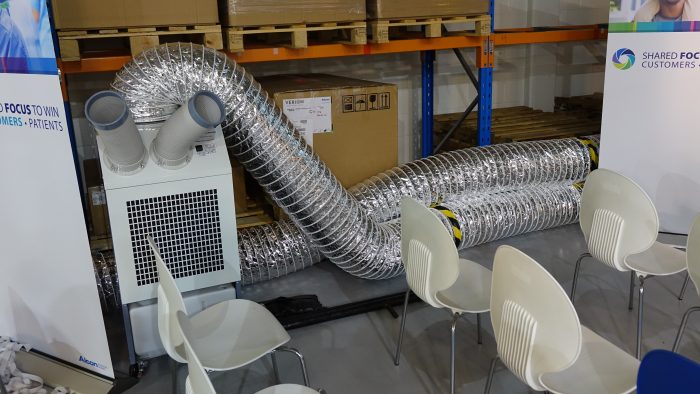 The eight air conditioners were vented outside the warehouse using a custom façade that was integrated into one of the roller doors. This provided an ideal way to remove heat from inside the building and dissipate it outside. Multiple inline fans were also required for the air conditioner ducting due to its length.
Result
Precision Air Rental was able to deliver and install this set up within one day, providing a quick and easy temporary cooling solution that met the client's brief perfectly. We were also able to work seamlessly alongside the event organisers and other teams to ensure minimal disruption to anyone during the day.
The event turned out to be a huge success with everyone having a good time. There were no issues with the cooling whatsoever, as everything was taken care of from start to finish by our team. The organisers were extremely happy with the support and solutions we provided.
If you need cooling for your temporary event, we have a range of solutions. This guide is a great resource to help you understand the best hire choices for different settings. If you have any questions or to request a call, give Precision Air Rental a call on 02 9626 6945.