Client
Our client is a global office equipment supplier with its main warehouse distribution centre and national headquarters based in Eastern Creek, NSW. With workplace technologies to improve overall productivity and performance, our client provides a range of solutions to small and large companies, including government departments in Australia.
Problem
The existing building air conditioner was unable to keep the client's server room cooling in summers when the temperature in western Sydney frequently soars past the 40-degree mark. This led to significant problems like system slowdowns and crashes, which had a direct impact on the productivity and operations of the business. There was also no option to upgrade the existing air conditioner as the client was leasing their building.
To combat this problem, the client needed temporary air conditioning to efficiently cool the server room during the summer months (about 3 months in total). It was also crucial that this cooling solution came with guaranteed reliability to avoid shutdowns and catastrophic data loss that already impacted the business in the past.
Solution
A few years ago, Precision Air Rental was called in for a consultation to discuss the client's specific needs. With cooling reliability front and centre, the client needed a commercial air conditioner hire solution that was efficient, cost-effective and effortless. This meant employees could continue to focus on the core function of the business without any distractions.
After assessing the server room size and heat generation from the machines, we recommended our 4.5kW commercial air conditioners. These powerful air conditioners have no special requirements and can operate off a standard 10amp power outlet. Adding four units to the server room provided an additional 18kW of cooling to avoid any unnecessary issues during the high-temperature summer.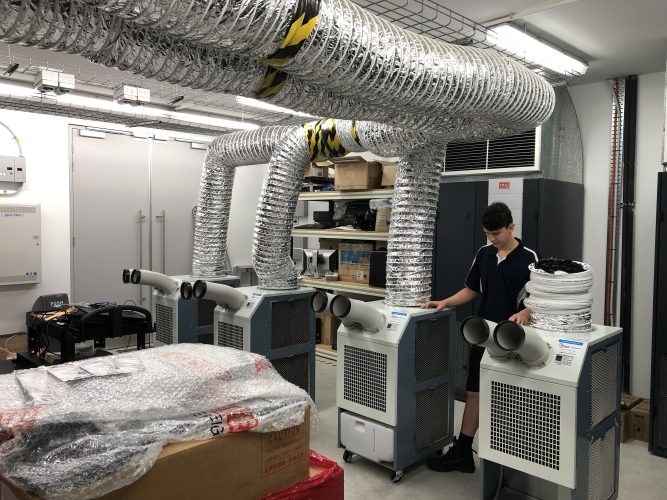 To avoid any distractions, we also set up latent condensate pumps attached to each air conditioner, which were plumbed directly into the wastewater of the building. This allowed water to flow out steadily and prevented the air conditioners from turning off when the tanks filled up. It also eliminated the risk of water build-up in the server room, which was particularly important to avoid electrical hazards and data loss. Ultimately, our portable air conditioner and condensate pump arrangement proved to be precisely the set-and-forget approach needed.
We identified convenient locations for the air conditioners and suspended the ducting from the ceiling, which provided additional mobility and vented hot air out of the room. Finally, we sealed the ducting, electrical supply and condensation drain to prevent dust and debris from entering the server room.
Result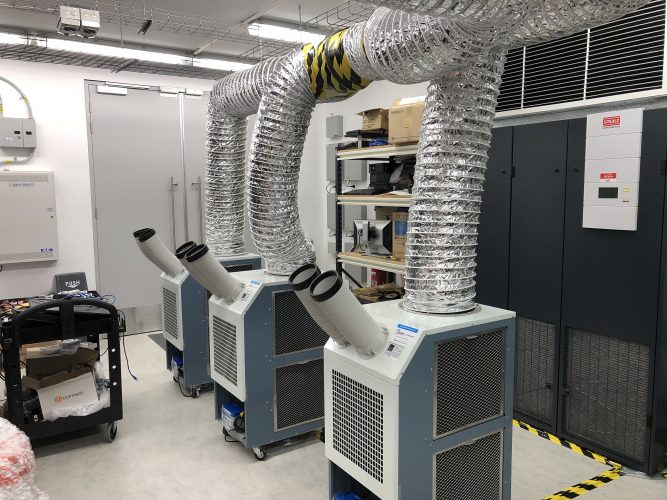 As a result of Precision Air Rental's solution, the client has been able to keep their server room cool during peak summers for the last three years with absolutely zero issues. There has been no interruption whatsoever to their national operations, and their data storage has remained safe. This relationship has been ongoing, and we are thrilled to continue it for years to come!
We are always on call to make life easy for our clients. If your server room or office needs a temporary cooling solution, this guide should give you a rough idea of what is involved and how much air conditioning hire costs. If you need a reliable cooling hire solution for your business contact Precision Air Rental.