If your office or residential air conditioning has suddenly broken down in the peak of summer, you need an instant fix to stay comfortable and keep your workforce productive – especially if you live or work in parts of Sydney where 40-degree days are all too common.
Average costs for air conditioning rental in Sydney
The cost of aircon rental will vary based on your specific needs. In order to help you better plan your budget, here are some average hire rates across cooling hire companies in Sydney:
I recall delivering a few temporary units to homes and businesses in Penrith at the start of 2020 when the temperature hit a staggering 48.9 degrees – making it the hottest place on earth at the time. A study estimated that heatwaves were costing Australian businesses $7.92 billion each year in lost productivity and at least 70% of people worked less efficiently because of the heat.
But there's the all-important question you probably want to know beforehand. Just how much does it cost to rent a portable air conditioner in Sydney? The cost depends on a myriad of factors, including the size of your space and the number of air conditioners you need. This comprehensive guide will answer all the questions you have about portable air conditioner rentals in Sydney – whether you need it for a commercial facility, an office, an event space, or your home.


Important Considerations for Portable Air Conditioner Rental in Sydney
If you notice any signs your air conditioner needs repair or if it has already broken down, a portable unit may be the solution. Before you pull the trigger on any decision, I encourage you to weigh all your options based on your specific needs. In my experience over the years, there is no one-size-fits-all solution.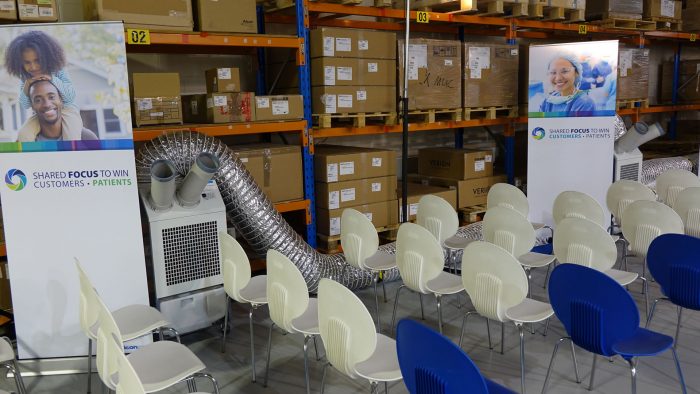 Why should you hire a portable air conditioner?
Portable air conditioners are smart temporary alternatives in case your existing air conditioning system breaks down, or if you are organising an event. Some benefits include:
Compact size – they fit discreetly into right corners without taking up too much room.
Cost-effective – weekly rental payments are much less than purchasing a system outright, keeping your expenses in control.
Uncomplicated installations – they can easily be delivered and installed within a few hours of your order.
Easy to learn and operate – no major difficulty in learning how to operate them quickly.
Complete climate control – multiple settings for optimum temperature control so you can adjust the temperature, as you need.
What is the size of your office, home, or commercial facility?
The size of your office, home or commercial facility will play a role in your decision. Since no room size is exactly the same due to factors like sunlight, ceiling height, window size, insulation, obtuse shapes, and more, you will need to carefully measure the space to determine how big it is. You will also need to consider if there are any walls or blocks in between the rooms that could obstruct the flow of cool air to certain spaces.
How many air conditioners will you need?
As a general rule of thumb, a standard 4.5kW portable air conditioner can cool down a room size of approximately 30-sqm. Once you are able to get the specific size of each room in your office or home, divide it by 30 to get a rough estimate of the number of air conditioners you need. While this should give you a general idea of the number of air conditioners, it's always best to get a more accurate quote from someone who understands the ins and outs of how portable air conditioners work for different areas.

How long will you need the air conditioner for?
The length of time you need the air conditioner for will be based on your specific situation. Here are some considerations to keep in mind:
If you need an air conditioner to replace a broken-down system in your office, warehouse or home, this may typically take between 1 and 2 weeks.
If you have an event, then you may need a temporary air conditioner for the entire duration. This could last days or even a few weeks.
If you are hiring a temporary air conditioner to get you through summer, you will likely need it for 2 to 3 months. This is common for commercial tenants in office or retail buildings. It's the same for residential tenants who rent, as landlords aren't obliged to provide air conditioning in many Australian states.
The most frequent hire period is usually 1 to 2 weeks for those who are dealing with a broken down air conditioning system.
What does delivery and installation mean?
If the air conditioner fails in your home or office, you should be able to get it delivered and installed on the same day with no major disruptions. Getting the air conditioner professionally installed ensures the hot air venting is properly connected to the window or ceiling, along with condensation drainage connection and power supply. Professional delivery and installation is the easiest way to get your cooling up and running quickly. It also keeps your team productive since no one wastes time on the air conditioners themselves.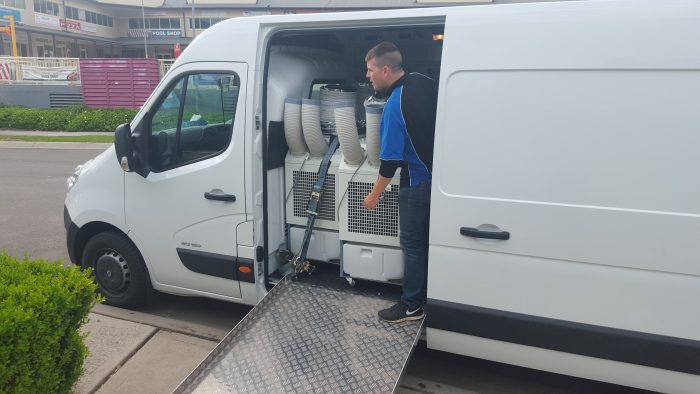 Example costs for hiring portable air conditioners
These examples and calculations will give you a clearer understanding of what you may need for your specific cooling needs and how much it might you:
Commercial air conditioner rental
As one portable air conditioner cools up to 30-sqm of an open plan office, a standard 200-sqm office space will require 7 units for a combination of private and open rooms. Commercial air conditioner rental for this example would cost approximately $3,000 to $3,500 for the first week (includes delivery and installation) and $1,400 to 1,800 per week thereafter for the time period in which your air conditioning is being repaired.
Industrial air conditioner rental
For an open warehouse or factory floor, you will need one portable air conditioner to spot cool each work station, since cooling the entire space will most likely be extremely expensive. For cooling attached office space, one unit is ideal for every 30 sqm. So for example, if you have a smaller factory or warehouse with 3 main work stations and a 150-sqm upstairs office, you will need 8 units (5 units for the 150-sqm of office and 3 units for the 3 work stations). In this case, industrial air conditioner rental would cost between $3,500 and $4,000 for the first week (includes delivery and installation) and $1,500 to $2,000 per week thereafter.
Event air conditioner rental
For events and seminars, there are plenty of variables based on size, type of building construction, height, number of guests and weather, to name a few. If you need to cool down a 150-sqm marquee on a summer day for a party or wedding reception of up to 120 guests, you will need about 8 portable air conditioners (one per 20sqm of space). Event air conditioner hire in this example would cost between $1,500 and $2,000 for a one-day rental (inclusive of delivery, installation and removal).
Home air conditioner rental
For a home, you will need 1 air conditioner per bedroom and 1 per 30-sqm of open living areas. If you have a 4-bedroom home with occupants in each room at night, then you will need 4 units. This is assuming you do not use any additional air conditioners in the living areas because you simply move the units there during the day. Your home air conditioner rental, in this case, will cost $1,100 for the first week and $600 per week thereafter.
What is a latent condensate pump, and why do you need one?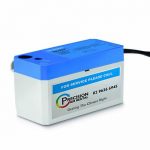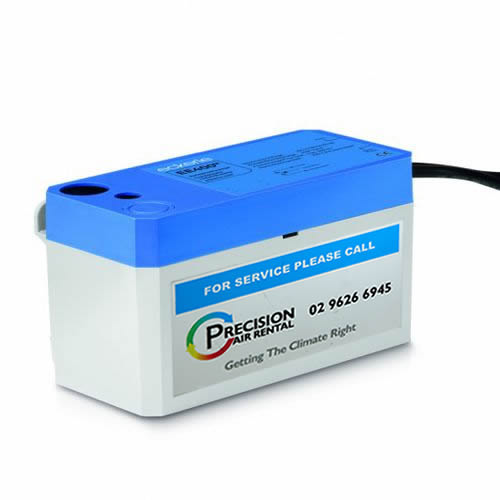 Latent condensate pumps are ideal additions to your air conditioner hire because they drain the condensation tank of the air conditioner directly into the wastewater of your building. This saves you from having to frequently empty the tank yourself, allowing the air conditioner to run non-stop without issue. These pumps can easily be plumbed into your building's wastewater by experienced technicians. You need one latent condensate tank per airconditioner
Why do you need to get the room sizing right?
If you make a mistake with the sizing and underestimate the number of air conditioners you need, you will end up with overworked machines that won't be able to effectively cool the area down, plus your room might feel balmy and excessively humid. If you overestimate, you end up with more than you need, which makes the space feel like a fridge and once again pushes up your costs. Going with fewer air conditioners isn't always the most economical choice, so it doesn't make sense to skimp out. Getting the size right allows you to plan the number of air conditioners you need more accurately – optimising your cooling needs and keeping your costs down. At Precision Air Rental, we can help you work out exactly how many air conditioners you'll need to effectively cool your business or home.
Conclusion
A failure of your air conditioning system could cost you thousands of dollars in lost productivity, which is why you need to find an efficient, temporary cooling solution – fast. Precision Air Rental delivers state-of-the-art portable air conditioners to residences, offices, warehouses and events throughout Sydney. Our 100% up-time record, 24-hour replacement guarantee, same-day delivery and installation, and 24/7 emergency call-out services make us the preferred portable air conditioner rental in Sydney.
Contact us today and get your air conditioning sorted with complete peace of mind!