If installing a split or ducted system is not a possibility, portable air conditioners serve as excellent substitutes. Often overlooked until Sydney temperatures hit record highs, which is all too often these days, a portable air conditioner is compact, easy and a versatile option for any room in your home or office.
Best Portable Air Conditioners for Sydney
Domestic
Rinnai RPC41WA (4.1kW)
De'Longhi PAC CN86 (2.5kW)
Bio PA 300 (5.7kW)
Commercial
How Do Portable Air Conditioners Work?
Portable air conditioners work by dispelling hot and humid air from the room and replacing it with cooler air. Most even come with a built-in thermostat to maintain consistent temperatures. Often, the only requirement is a window or exhaust for venting but some may need special power points while others work on standard outlets.
For rooms in homes, 5.7kW units usually do the trick, while larger areas like offices and other spaces will benefit from the efficiency of a more powerful commercial air conditioner capable of cooling bigger spaces.
What are the Pros and Cons of Portable Air Conditioners?
Portable air conditioners are incredibly convenient for business owners, homeowners and renters who need a temporary cooling solution. But it's also useful to weigh up the pros and cons to help you make a more informed decision:
Pros
No need to pay thousands to install split or ducted air conditioning.
Flexibility to position the unit based on traffic flow in the room.
No major installation needed, which means they can be up and running within hours.
Cons
Usually not as energy efficient as split or ducted air conditioners.
They cannot be moved around as easily as perceived because they need to be vented through a window or exhaust.
They can sometimes have disruptive noise levels, which is more common in older models.
What Factors to Consider in a Portable Air Conditioner?
If you're a temporary resident, tenant or simply not able to fork out thousands on split or ducted air conditioning systems, portable air conditioners can make all the difference when the weather gets unbearable. It pays to dig around and do your research so you can make the best choice. Let's take a look at some of the factors to consider in a portable air conditioner:
Price
Portable air conditioners can range from a few hundred to a few thousand depending on what you decide to purchase. This is just your upfront cost. There is also the cost of cleaning and maintenance to consider, in addition to energy consumption. Many cheaper models are electricity guzzlers, while others are relatively more energy efficient.
Remote Controls
This is such a handy feature because it allows you to set temperatures, timers and modes without having to physically get up.
Water Tank
Emptying excess water from the tank every time can be frustrating. Some models come with condensate pumps that connect directly to your pipes, which means you can set and forget the air conditioner.
Noise
Noise is a major factor for homes and offices to maintain a quiet environment. Noisy indoor air conditioners will interfere with your work or leisure activities. According to SafeWork Australia, noise levels should be kept below 70db if you work in routine environments where conversations are required.
Power Requirements
Some portable air conditioners may have special power requirements, while others can operate off standard outlets. This is especially important, as you may not have the capability to install any special power outlets for a temporary portable unit.
Performance
Some portable air conditioners are more energy efficient than others. In April 2020, the government introduced energy efficiency regulations to ensure single duct systems now display the Zoned Energy Rating Label (ZERL) to highlight their performance efficiency.
Reliability
The last thing you need is a broken-down air conditioner in summer, which is why reliability should be a top priority.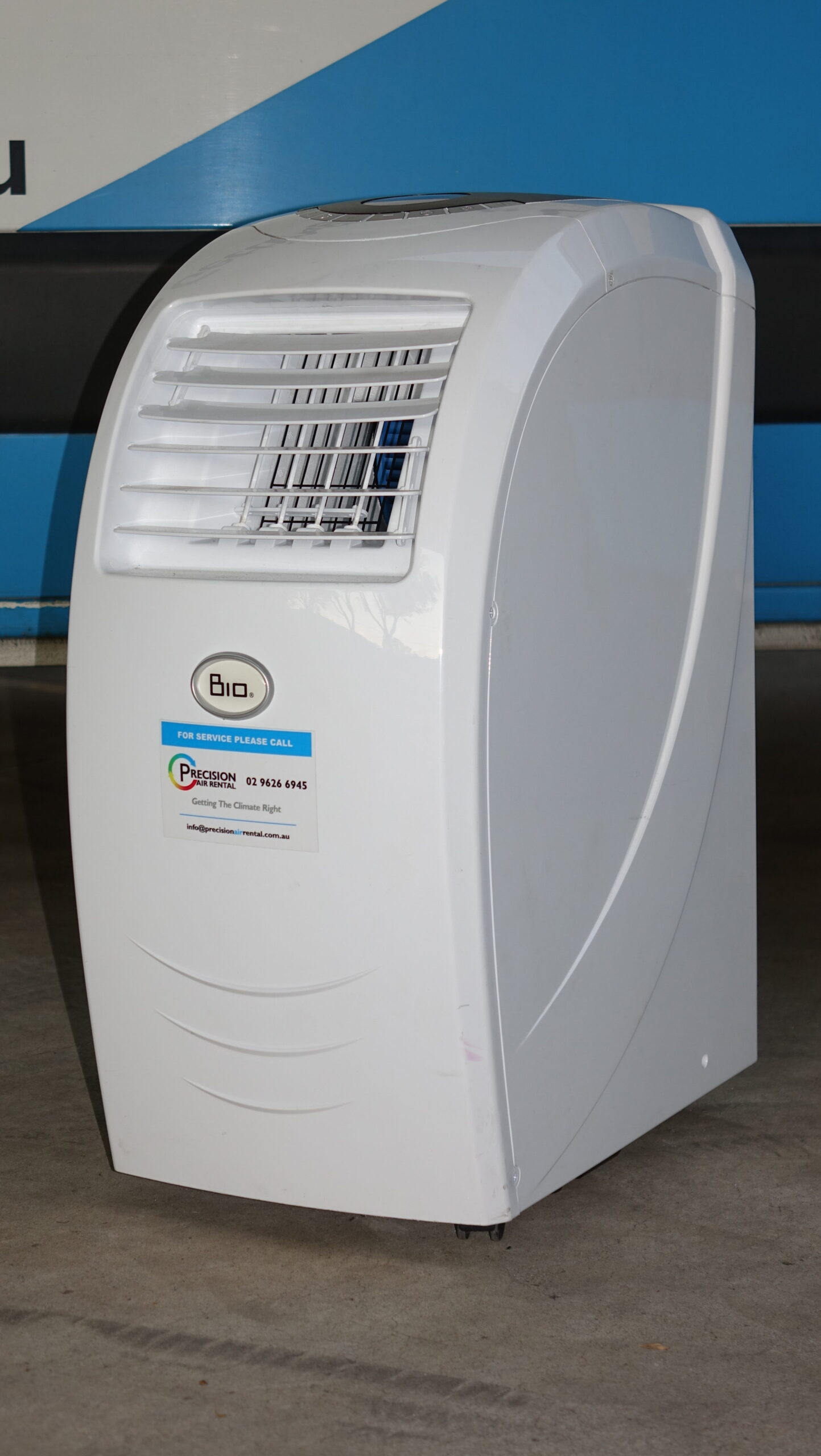 How Do Residential Air Conditioners Stack Up Against Each Other?
Some residential models that have impressed us include the Rinnai RPC41WA Cooling Only Portable Air Con, which is capable of cooling rooms up to 25 square metres. It is great for smaller rooms and includes temperature control and dehumidifying features. We also like the De'Longhi PAC CN86 air conditioner that has a 2.5kW capacity and is well known for its quiet operation and humidifier.
But finally, we picked the Bio PA 300 as the winner for residential properties. The Bio PA 300 is a great air conditioner with its 5.7kW capacity for cooling areas between 20 and 30 square metres and a mobile design that can easily be positioned where it is most needed. For those simply after fresh air, it also has a fan mode with three-speed settings and an energy-saving mode that reduces electricity consumption.
What are the Best Commercial Air Conditioners?
One of the advantages of portable units in commercial settings is flexibility. The unit can literally be placed anywhere to spot cool specific areas or entire rooms where needed, which may simply not be an option with fixed cooling systems.
After weighing up all the options, we like the ICEN portable air cooler air conditioner 240v 6.1kW that can cool areas up to 50-sqm and is an effective cooling solution for commercial and industrial settings. But it requires a 15A wall outlet, which is less common. The Vevor 5400w commercial air conditioner also provides high working efficiency and powerful airflow operation.
For us, the Denso MovinCool 15SF spot cooler sets the benchmark with its 4.5kW capacity capable of efficiently cooling rooms up to 30 square metres with noise levels of just 64db – well under SafeWork Australia's recommendation. Known for its reliability and versatility in commercial or industrial situations and ease-of-use off standard 10A power outlets, this is our go-to choice at Precision Air Rental.
Should You Rent or Buy a Portable Air Conditioner?
Portable air conditioners are remarkably affordable to get the cooling you need without having to invest in a permanent system. The decision to rent or buy a portable air conditioner depends on your specific situation. For instance, if you are a long-term homeowner, you may decide to install a fixed split or ducted system to get you through summer over the years.
In some situations, however, buying may simply not be an option – especially if you are a renter or an office manager whose regular air conditioner has broken down. Renting could be just the short-term solution you need for a few weeks or through the summer months. With portable air conditioner rental costs starting from just $160 per week for homes and $250 per week for commercial offices (plus delivery), they can easily be installed and running within a few hours.
Ultimately, finding the best unit for your situation depends on a variety of factors including purpose, size, budget and number of people. If you're thinking of hiring a portable air conditioner a go, Precision Air Rental can help you identify the perfect cooling solution tailored to your specific situation. With a 100% up-time record, same-day delivery, 24-hour replacement guarantee and 24/7 call-out; we take good care of you.